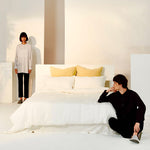 At endlessbay, we understand the importance of a good night's sleep, which is why we take pride in offering our high-quality linen sheet sets. Our sets are perfect for anyone looking to elevate their bedding collection. In this blog post, we'll delve into the benefits of using linen sheets, discuss the features of our endlessbay linen sheet sets, offer tips for proper care, and share some positive customer reviews and testimonials.
Why Choose endlessbay Linen Sheet Set?
Our linen sheet sets are made from premium European flax, renowned for its durability and superior quality. We use a stonewashed finish that not only adds to the overall softness of the sheets but also creates a unique, relaxed look that only gets better with time. Moreover, all our linen sheet sets are OEKO-TEX certified, meaning they've been tested for harmful substances and are safe for sensitive skin.
But what sets our endlessbay linen sheet sets apart is the attention to detail in every step of the production process. From selecting the flax fibers to weaving and finishing, we take great care to ensure that each sheet set is of the highest quality. Our sheets are pre-washed and pre-shrunk, so you can enjoy them from the moment you put them on your bed.
The Benefits of Linen Sheets
Linen sheets have been used for centuries for their natural softness, breathability, and durability, making them an excellent choice for bedding. They are moisture-wicking, which means they can keep you cool and comfortable all night long. Additionally, linen sheets are hypoallergenic, making them suitable for anyone with allergies or sensitive skin. 
One of the other great things about linen sheets is their longevity. Unlike many other types of bedding, linen sheets become softer and more comfortable with age. This makes your endlessbay linen sheet set a worthwhile investment that will last for years to come.
How to Care for Your Linen Sheet Set
Proper care is crucial to maintain the quality and longevity of your linen sheet set. We recommend washing your sheets in cool to warm water on a gentle cycle, using a mild detergent, and avoiding bleach or fabric softener. To dry your sheets, hang them outside or tumble dry on a low heat setting.
One of the unique features of our endlessbay linen sheet sets is that they are pre-shrunk, so you don't have to worry about them shrinking or losing their shape over time. However, we still recommend avoiding high heat or over-drying, as this can damage the fibers and reduce the overall quality of the sheets.
Customer Reviews and Testimonials
Our customers love their endlessbay linen sheet sets. Here's what some of them had to say:
"I'm in love with my endlessbay linen sheet set! They are so soft and comfortable, and the stonewashed finish gives them a unique, lived-in look that I adore." - Amanda K.
"These sheets are a game-changer. They are breathable and cool to the touch, which makes them perfect for summer. I also appreciate that they are hypoallergenic." - Matt J 
"I've had my endlessbay linen sheet set for over a year now, and they are still as soft and comfortable as the day I got them. I love the natural look and feel of the linen, and it feels good knowing they're made from sustainable materials." - Sarah T.
We are delighted to receive such positive feedback from our customers, and we're committed to providing the highest quality linen sheet sets to everyone who chooses endlessbay.
endlessbay linen sheet sets are the perfect addition to any bedding collection. Made from high-quality European flax and stonewashed for a unique, lived-in look, our linen sheet sets offer a range of benefits, including breathability, durability, and natural softness. With proper care, your endlessbay linen sheet set will last for years to come and only get better with age. Don't just take our word for it - try out our linen sheet sets for yourself and experience the ultimate in comfort and quality. And with our March promotion, now is the perfect time to upgrade your bedding collection with endlessbay linen sheets. Visit our website or social media pages to learn more and take advantage of this limited-time offer.