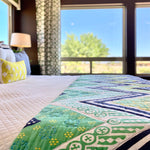 Quilting is an easy way to bring life into any room in your home! Whether you're looking for traditional patchwork designs or prefer something more modern, there are plenty of options out there when it comes to incorporating this craft into your décor. From utilizing quilt bedding sets to creating unique wall art pieces with vibrant fabrics, get creative with how you use quilts around your house for a cozy yet stylish atmosphere that everyone will love!
Quilts as Bedding
The most common way to use quilts is as bedding. This is a great way to add a touch of warmth and color to any bedroom. When choosing a quilt for bedding, consider the type of fabric used to make it, as this will determine how thick or warm the quilt will be. If you want something lightweight but still cozy, look for a cotton quilt; if you want something that will keep you extra warm on cold winter nights, look for one made with minky or flannel fabric. You can also mix-and-match different types of fabric for a unique look.
Using quilt bedding is also one of the most popular ways to add a cozy touch to your bedroom. If you're looking for something a bit more traditional, choose a patchwork quilt that features several different colors and patterns stitched together in an eye-catching design. Or, if you'd like something more modern, look for solids or prints that reflect your color palette. The great thing about quilts is that they come in so many sizes — twin, full/queen, king/California king — so no matter what size bed you have, you can find the perfect fit.
Quilts as Curtains
Another great way to use quilts in your home is by turning them into curtains! Quilted curtains can add texture and dimension while also providing privacy and blocking out light from windows. To get started, measure the window frame where you'll be hanging the curtains and then cut two pieces of fabric that are slightly larger than the measurements (to allow for some extra room). Sew together each side of the fabrics using a straight stitch, leaving enough room at the top and bottom for curtain rods or rings. Finally, attach grommets along the top edge so that you can hang them up easily!
Table Toppers & Other Decorations Table runners or placemats made out of quilt fabric instantly elevate any dining space or coffee table. Or try using smaller pieces of fabric as napkin rings at dinner parties! And don't forget about other accessories like pillows, throws, and even rugs — all featuring unique quilted patterns — for added comfort and style throughout your home.
Quilts as Wall Art
If you're looking for a creative way to display your favorite quilt patterns without committing them as bedding or curtains, why not turn them into wall art? You can hang up finished quilt blocks or even unfinished pieces — just make sure they're large enough so that people can see their details from far away! You could also frame smaller pieces of fabric in shadow boxes or mount them on foam boards for an easy DIY project that looks professional.     
Quilted wall art adds an unexpected pop of color and texture to any room in the house. Whether you hang up a large piece or opt for something smaller — like framed mini-quilts — it will definitely make a statement and draw attention to the room's décor. You can also add interest by incorporating various textures into the design — from appliqué accents to hand-embroidered details—to make it truly one-of-a-kind.                                                                                                  
Whether you're looking for something cozy and comforting like bedding or something more eye-catching like wall art, there are plenty of ways to use quilts in your home. With its versatility and endless possibilities, it's no wonder why many people have embraced this timeless craft—so why not give it a try yourself? With just a few simple steps (or maybe even fewer!), you can transform any room into an inviting oasis filled with beautiful patterned fabrics! So grab some scissors, thread, and fabric and start making your very own piece of functional art today!