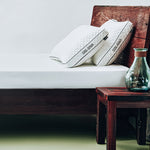 There is a world of difference between these two types of bedding. This article gives an overview of different types of sheets and explains the difference between fitted and flat. There are many advantages to choosing the right sheet type, with some mattress models requiring specific sheet types.
The article also provides details on the different types of sheets and discusses the differences between them. If you're looking for some bedding sheets, endlessbay has a nice selection on sale now! They have both endlessbay flat sheets as well as endlessbay fitted sheets.
What is a flat sheet?
Flat sheets, as the name implies, lay flat atop your bedding. They can be pushed underneath the bottom corners of your mattress but may not remain as firmly in position as a thick fitted sheet since they lack the flexibility of a thick fitted sheet. Fabric characteristics do not always play a role in determining whether a sheet will stay flat. Flat sheets are generally made from cotton, though some are made from polyester.
Characteristics of flat sheets:
All elastic:

Flat sheets are typically elasticized around the entire outer edge of the sheet, with a hemmed edge at the top.
Prevents the top from getting dirty:

Flat sheets have a feature that prevents clothes or bedspreads from getting dirty by not allowing them to bunch up at the top of the bed. Materials used to produce flat sheets are typically less delicate than those used for fitted sheets, thus providing some protection from spills, especially dents and creases.
Backs can be tucked:

Flat sheets typically do not have elastic at the bottom of the sheet and so there is no hem for the bottom of the sheet to tuck under. Though some fitted sheets may come with a tail on which it can be tucked in, this is not common with flat sheets. Instead, flat sheets fold a bit over on themselves and nothing is preventing this from occurring when you need it most.
Easily slip off the bed:

Flat sheets may, for the reasons mentioned above, easily slip off of your mattress. This does not necessarily apply to fitted sheets, which are more tightly fitted onto the mattress.
Comfortable to use:

Flat sheets are generally made from softer, finer fabrics and therefore feel more comfortable to use than fitted sheets.
What are Fitted Sheets?
This type of sheet is very different than a flat sheet. A fitted sheet fits snugly around the entire mattress and generally has elastic to prevent it from coming loose while you're sleeping. The elastic keeps it in place while you sleep, just as a flat sheet would when you are lying on it.
Fitted sheets have elastic all around their edges. They have a loose fit on the mattress so that they can be pulled up to adjust your bedding level and then tuck under, or tucked under with an elastic band. Most fitted sheets contain at least one elastic feature, though some contain multiple elastics which allows you to stretch the sheet as needed to tuck it even tighter around your mattress.
Characteristics of fitted sheets:
Easy to clean and tidy:

Fitted sheets are easy to keep clean and tidy because they are made to fit the mattress perfectly. This prevents bedspreads and blankets from bunching up at the top of the bed, though this can be prevented by using a flat sheet over your fitted sheet.
Smooth on skin:

Fitted sheets provide a much smoother feel on your skin than flat sheets, since they do not have as many folds or creases in them. This makes you feel more comfortable when you're sleeping in your bedding without causing discomfort or leaving grooves or lines in your skin once you move around (though some people prefer this rougher texture for feeling cooler when sleeping).
Won't leave a messy bed:

Since fitted sheets have a tighter fit, they will not easily slip off of your bed. This means that you won't have to adjust or tuck them back into place as you're getting in or out of bed. You also won't be tempted to roll onto the mattress since it doesn't slide or shift underneath you as a flat sheet may.
Longer lasting:

Fitted sheets are made of sturdier materials than flat sheets and are made to last longer than flat sheets because they have no folds which can wear down over time. Instead, the elasticity lasts much longer and the fabric does not wear down nearly as quickly as a flat sheet would with frequent use.
Difference between flat sheets and fitted sheets
Most of the time, people assume that flat sheets and fitted sheets are the same. They think that the main thing you have to watch out for is whether the sheet is elasticized or not. However, there are many differences between these two types of bedding, starting with their structure and made from different materials - flat sheets are made of cotton while fitted sheets are made of polyester.
Absorption: Flat vs. Fitted sheets:

Flat sheets don't completely cover the mattress, for a situation where you're sleeping with another person in the room. This is because the sheet isn't elasticized or fitted to your mattress. This means you will have to tuck your side of the sheet under your leg or foot, which can be uncomfortable and make your bedding bunch up at the top of your bed if you have someone sleeping on either side of you.
Maintenance: Flat vs. Fitted sheets:

Flat sheets are somewhat more delicate than fitted sheets since they contain folded material instead of a tight elastic band. This means that you'll need to be careful not to bend the sheet too sharply when you are tucking them in or getting into bed, otherwise they may become damaged or worn out over time. Fitted sheets aren't as delicate since they are made to fit tighter around your mattress and won't get dents in them as easily.
Use: Flat vs. Fitted sheets:

Although they both serve the same purpose, flat and fitted sheets were created at different times for different purposes. Fitted sheets were made to fit snugly around the mattress, but allow air to circulate through your body and help keep you cool at night. They are often thinner than flat sheets, and therefore catch less heat, which also helps keep you cooler at night.
Size: Flat vs. Fitted sheets:

Flat sheets are wider than fitted sheets and the material is thicker, which means that they are larger. When it comes to fitted sheet sizes, there's no exact measurement. The majority of sheets sold today are medium-sized fitted sheet styles.
Cost: Flat vs Fitted sheets:

The price of flat sheets varies depending on what kind of fabric the sheet is made out of and the style it contains (cotton or polyester). Fitted sheets are more expensive than flat sheets and are made of more costly materials, such as polyester.
Style: Flat vs. Fitted sheets:

Flat sheets give you a choice of different colors and patterns while fitted sheets only come in solid colors or with a simple pattern on them. However, if you want to customize the look of your bedding, then you should opt for a fitted sheet style because they can be found in thinner materials that don't cover up your mattress.
How to pick the best endlessbay flat sheet?
When you finally decide to go find the best flat sheets out there, endlessbay is the perfect place. endlessbay's flats sheets are available in a variety of fabrics so that you have some options, you'll always find something that suits your style and tastes here. So, let's take a moment to talk about what you should look for in the best sheet set for your needs and budget.
Durability:

endlessbay always puts durability as the number one on their list of important flat sheet features. This is because better protection means a fuller night's rest for you and your family. endlessbay flat sheets are made with a durable polyester fabric that keeps their shape, helps to absorb spills, and holds up well to frequent washing.

Design:

When it comes to unique designs, you're not just getting something that's fun to look at; the flat sheets with unique designs are also very well made and durable.

Size:

Going with the correct size of flat sheet is important if you want to make sure that it fits your mattress and doesn't slip off. Also, when you go with the wrong size, it could cause your mattress to sag or even not fit properly.

Price:

As we all know, pricing is always an important part of buying anything. With all of endlessbay's flat sheets, you can find a variety of prices that are based on what kind of fabric and design you're looking for. Some users have been very happy with them and have had great experiences with their purchases, so take a look around and decide which ones would suit your needs the best.
How to pick the best endlessbay fitted sheet?
endlessbay doesn't only put out flat sheets but they are also known for their fitted sheets. Wrapping your bed in one of these fitted sheets will make it feel like you are sleeping on your mattress. Waste no more time looking for the perfect sheet set because you have finally found the best with endlessbay fitted sheet!
Here is how to pick the best endlessbay fitted sheet:
Comfortable:

There are a few main things that one needs to look for when it comes to comfort. The first thing is the weight of the fitted sheet. Many are too heavy and you'll feel like you're sleeping in a bed with a tarp on it during the night.

Easy to clean:

The second thing is the weight of the sheets. Some are very light, but some are very heavy and you'll have to wash them every night.

Material:

The third thing to consider is the material of the sheets, especially if you don't want them to get all wrinkled after washing them.

Check Review

: The fourth thing to consider is the feedback from the past customers of Endlessbay. If it has good stars and a lot of positive remarks then you can confidently order their product.
After reading both guides, you can now go and purchase what you deem to be the best flat or fitted sheets. If you ask us, we would recommend to you the following top endlessbay product that satisfies your needs.
endlessbay Linen Flat Sheet
This is a very well-made sheet that is made with the best quality of material available. It only comes in queen and king size and is sold at a fair price. The sheets are made of natural linen which is anti-bacterial and hypoallergenic.
The linen material is made of the highest quality Belgian flax linen and these sheets are very durable and easy to wash. These sheets come with a non-slip feature so they will stay in a place where they should.
The edges of the linens are finished with a lighter color to avoid any fraying. The threads are made of heavy-duty 3000 denier linen which is worn by professionals. endlessbay Linen Flat Sheet is pretty affordable and you are sure to have a good time with it while bedding down. You may check it out now at their official website.
In the end, it is always important for you to make sure that you're getting good quality sheets, especially when you're picking out your fitted sheet. Make sure that the material used is sturdy and well-made, otherwise, it could wear out much quicker than other lower-quality sheets. And make sure that the size fits your mattress before you buy it so as not to waste money on an item that won't fit!