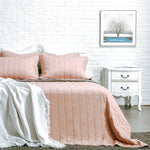 When it comes to choosing suitable quilt bedding, a lot of options are available in the market. These days, organic quilt bedding is quite in vogue. For people who are skeptical about using organic quilt, they must understand the fact that this quilt choice is as natural as choosing organic veggies, organic hair and care products, and more. The reason why people must give it a thought to this product is that it is a healthier option and these quilt beddings are manufactured without using any harmful chemicals. For the uninitiated, it is imperative to note that organic cotton is produced using less water as compared with conventional cotton.
In conventional cotton, a variety of fabric treatments and harsh chemical cleaners are used. Conversely, organic cotton is breathable and comfortable to use in contrast to synthetic counterparts. When you use organic quilt bedding, you feel cool and comfortable which is not the case in synthetic bedding. Organic quilt bedding is also an excellent choice for young children and babies as their delicate bodies are highly sensitive to formaldehyde, detergents, and pesticides containing treatments. Give a safer and comfy bedding for your little ones by making the right choice. Here are a few more reasons why choosing organic quilts and comforters is the best choice.
Choosing organic quilt and comforter is an excellent choice for all those who have sensitive skin. Such quilts and comforters are not processed or manufactured using detergents and harsh chemicals.
Organic quilt bedding is made with breathable fabric that doesn't leave you hot and sweaty.
Manufacturing of organic cotton requires less water and doesn't use harmful pesticides.
Such quilts and beddings do not undergo wrinkle resistant treatment wherein harmful formaldehyde is released.
Using organic bedding for babies ensure no exposure to toxins. This is specially important for their growing and developing bodies.
Such beddings, comforters, and quilts do not undergo treatment with flame retardants.
It is made without using harmful colorants and harsh dyes.
Organic quilt bedding can sustain a lot of wear and tear as compared with conventional bedding as fiber gets weakened due to chemical processing.
All these benefits prove why using organic quilt bedding is an excellent choice.