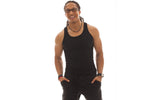 Chapter 1: Quality Sleep and Recovery
We believe that each day, not just those spent on holiday, is a special occasion and we strive to give you the most comfortable sleep so you can live each day to the fullest. However, we know that quality bedding is only one part of the formula. We could tell you all day to change your bedding to 'this,' buy a comforter that does 'that,' or put up 'this' kind of curtain. But then we'd just be telling you to waste your time and money - and no one wants that.
That's why we're happy to have enlisted the knowledge of one of the most respected and sought-after celebrity trainers out there to bring you innovative health, wellness, and sleep practices. Josh Holland is a holistic, nationally certified fitness expert who utilizes his strong knowledge in exercise science, biomechanics, nutrition, and ancestral health to develop proven techniques and programs.
He has transformed the bodies of the world's most fit celebrities including Madonna, Oscar Isaac, Gigi Hadid, and Roger Waters. Additionally, Josh has been responsible for the health and wellness of many notable people in the worlds of business, fashion, and entertainment and has recently opened 432 House, an exclusive new fitness studio in the heart of New York City. So before you go buying this, that or the other thing, blindly trying to improve sleep, let's talk about how to determine what, if any, products would work best for you.
The first of our four-part series with Josh will cover the importance of quality sleep and recovery with upcoming chapters covering quality consumption, quality activeness, and quality exercise. These four pillars - which depend on and support one another - are the basis of Josh's theories, methodology, and proven roadmap to optimizing your health and wellness.
"Our bodies and minds adapt to what we do most of the time," says Josh. "If you want to change your body and mind, you must change what it is you do most of the time."
Are we eating for seven hours a day? Let's hope not. Are we exercising for seven hours a day? Not even Dwyane "The Rock" Johnson does. "What we are actively doing for an average of seven hours a day, is sleeping and/or recovering, explains Josh. "This is why quality sleep and recovery is the most important pillar - because it's what we do most of the time and therefore this is a huge part of how we create change."
So how do we optimize our sleep and recovery? According to Josh, we first need a benchmark. We need to understand what state our body is currently in to map the best road ahead and Josh recommends three cutting-edge bio-tracking devices to do so:
The Garmin Fenix 5 Watch is great because it's the most consistent when measuring your sleep quality. The metrics it uses to measure the quality include how long it takes you to get to sleep, body temperature, and heart rate variability which can indicate when and whether you're in a relaxed or stressed state. The Fenix 5 comes with a gaggle of other features for athletes like GPS, a library of activity profiles including swimming, golf, rowing, running, skiing, and paddle sports. For a complete look at everything you do, the Fenix 5 tracks it all.

The Oura Ring looks like a wedding band but incredibly measures your pulse, body temperature, and activity from the arteries and capillaries in your finger. For simple, sleek, and unassuming yet incredibly accurate tracking, Oura Ring is the perfect fit.

The WHOOP fitness tracker, like the Fenix 5, is comprehensive. What Josh mainly looks to this device to determine, is if he's ready to crush another crazy, quality workout. And the WHOOP does that by telling you how strained your body is as well as what contributes to that strain whether it be exercise, stress, or something else. Based on the metric of "day strain" and "percent recovery," you can find out when you need rest and recovery and what contributes to the quality of it.
So maybe those of us accustomed to Western ideas of energy drinks, caffeine binging and physically and mentally pushing ourselves to the brink on a daily basis, could consider trying a bio-tracking device. We could take the first step of benchmarking the current state of our energy, how our bodies react to sleep, and what practices and products, like naturally thermoregulating linen sheets, might help optimize our sleep and recovery for a fuller, more energized, and balanced day.
Stay tuned to endlessbay's blog for our next chapter with Josh on quality consumption.