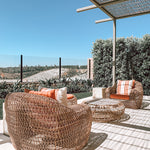 Whether it's a simple duvet cover or a comforter with a fitted sheet and a flat sheet, the bed is a vital household investment. When getting ready to buy contemporary luxury bedding of any sort- sheets, pillowcases, duvet covers-it can be daunting to know what you're looking for.
The sheer number of choices is overwhelming, and no one wants to spend a fortune on something that doesn't work.
Whether you're looking for cotton bedding or Egyptian cotton, it's crucial to find the luxury bedding that fits your needs and budget. We've put together a few tips to help you shop more effectively.
Materials for Bedding
One of the first things to consider when buying bedding is what it's made out of. Cotton and linen materials are the best for beddings. These materials ate durable, soft and breathable. Here are some common bedding materials that can help you narrow down your choices:
Linen Bedding Materials
Linen is unique bedding material that you should consider for your home. Here are some reasons why you should use linen bedding materials:
The beddings are soft

The fibers are long and slender, making the fabric strong

Compared to other materials, it wrinkles less

Breathes better (better for regulating body temperature) and absorbs moisture quicker (it feels more relaxed in summer).

It's also incredibly durable, with the ability to stand more washing, drying, and generally hard to wear than any other fabric.

Linen is anti-bacterial, making it suitable for anyone with sensitive skin or allergies.

It's mold-resistant, so it will never smell musty if stored away wet, even on a long-term basis.
Cotton
Cotton is one of the most popular fabrics. Here are some of the reasons people like it:
It's durable

Breathable

Relatively affordable

It's highly versatile and can be used year-round.
Egyptian Cotton
Here are some of the reasons to choose Egyptian cotton luxurious beddings:
It's long

Silky fibers

More durable than other types

It's soft and luxurious against the skin
Bedding Weaving
There are three main types of the weave when it comes to bedding:
Each has its benefits when it comes to comfort, cooling, and durability.
Percale
Here are the advantages of choosing Percale beddings:
Percale beddings are tightly woven with a smooth, matte finish.

This weave type is lightweight and durable enough for year-round use.

It's also wrinkle-resistant and easily cleaned.
Sateen
Pros of using Sateen weaved beddings:
Sateen bedding has a bit more sheen than percale because it's woven with cotton that has been combed.

It's smooth and soft but can be a bit heavier than sateen, making it an ideal choice for cooler months.
Flannel
Here are the main reasons why people choose flannel woven beddings:
Flannel sheets are lightweight but warm.

This type of bedding is typically soft to the touch, but it wrinkles easily.
Thread Count
Thread count refers to the number of threads per square inch. The higher the thread count, the more durable and luxurious your sheet set will be.
For example, 100-thread count percale is thinner and less durable than 200-thread count percale. However, a 200-thread count percale can be rougher on sensitive skin.
Pattern
You don't have to stick with solid colors when buying bedding. Patterns offer more options for creating a stylish bedroom retreat. Patterns can also add visual interest to an otherwise simple bedding set. Choose patterns that will also blend well with your room and other fabrics around.
Seasonality
You're going to want different types of sheets depending on the season. Some fabrics do better in warmer or cooler conditions than others.
Cotton and Egyptian cotton percale and sateen are great all year.
Microfiber sheets are also an excellent choice to use year-round, though you may want flannel or heavy cotton sateen in the winter.
Considering your climate when shopping for bedding is crucial because it can significantly affect how well your sheets will hold up over time.
The quality of your sheet set should be determined by what you need to get out of them and how often they should last. Purchasing a low thread count set that isn't very durable means that it won't last very long even though it.