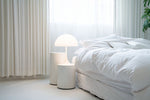 A comforter is a fluffy blanket, which helps insulate its users from cold. It is made up of sewing two fabrics and filling it with an insulating material like feathers, wool, poly-fibre, silk, kapok cotton, etc., and then is quilted. The high-end comforters are also known as a bed in bag sets. 
Classification of High-end comforters 
The classification of comforters is done based on the insulating material used. Below mentioned are different types of comforters:
Down-filled comforters: These comforters are fluffy and are filled up with goose down. These comforters are lesser expensive than the other type of comforters. These comforters are exceptionally light in weight.
Wool filled comforters: These comforters are resistant to fire, fungus, and microbes. They can be washed easily at home, as they drip and dry at a faster pace. 
Polyester filled comforters: these comforters are fluffy and can trap air. These are quite easy to wash, and they dry up quickly.
Silk filled comforters: They are incredibly soft and require dry cleaning. These comforters are considered perfect for people with acute allergy problems. 
Cotton filled comforters: The comforters are generally filled with two types of cotton, i.e. Kapok cotton and silk cotton. These types of cotton are absorbent and strong. Also, they are durable and reasonable. 
Is a duvet comforter different from a high-end comforter?     
A duvet comforter is a flat bag filled with either goose down or synthetic fibres. It is believed that one can choose between a comforter and duvet, he/she needs to consider its basic features, including the ease in washing, style, size of the bed as well as the additional materials required for bedding. A comforter is different from a duvet, as it requires a fashionable cover to fill in, and a duvet cover is like a pillowcase, respectively. 
One can now easily buy comforters and duvet online by choosing from its huge collection. Not only these bedding products but also one can buy quilts, decorative pillows, covers, etc.