News — Best custion case pattern
If you're looking for the best Mother's Day gift and want to give a gift that your mom will cherish beyond measure, make her wish come true with sustainable bedding. She'll love waking up in comfort every day and living a healthier life by sleeping soundly on hypoallergenic, 100% organic materials.
---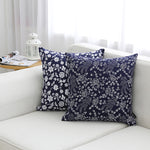 Cushion cases have always been a part of everyday life. They provide comfort, but also protection for your belongings. Nowadays, cushion covers are dealing with different designs and patterns. They come in different styles and colors. You can find cushion covers that are affordable, elegant and unique. The modern cushion covers will make your house look more beautiful and healthy.