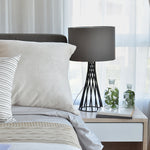 Whether it's a fresh start or not, home decor is always a great escape from anxiety and negativity. It can be a good source of boosting productivity, self-perception, and confidence. According to psychologists, composing blank walls and filling up spaces in your house can get you on track and rejoice in your mood, which gives you the excuse to re-decor or re-design your house with the latest trends.
While some people prefer professional help when it comes to decorating the nooks of their houses, it is always better to consult google, as it comes in quite affordable. Consider searching for the latest and most affordable decor options because investing in high-end linen blankets and ivory throws from Ikea will not get you featured on the front page on Elle. If you act smart and research hard, you can get the trending decor pieces for way less than those available on the market. But how do you know exactly what is in trends these days? Not everyone is filthy rich enough to have a monthly subscription with the Architectural Digest. Here is when we come to the grand rescue!
We have composed this article with the 10 best home decor products predicted to stay in 2022. Staring from endlessbay linen throws to decorative cabinetry, these chic accents will make the inside of your house look like a comfy yet artistic place.
1.Linen Throws / Ivory Blankets:
Speaking of comfort, the most popular trend of 2021 that made it to the headlines this year is the linen throws, also known as ivory blankets. Throws are ivory blankets or linen blankets just 'thrown' or draped over a bed, couch, or chair. The idea of linen throws is to have a comfortable ivory blanket to cuddle in while you're relaxing on your couch. You can get a throw of your choice from anywhere but getting one from endlessbay is much more affordable. endlessbay linen throws are high-quality, soft, and breathable linen throws with other ecologically friendly products. Apart from the linen blankets, endlessbay has hypoallergenic pillows, cushions, and bedding items; however, their linen throws are the best you can find all over America.
2. Indoor Plants:
The next trending decor is none other than the indoor plants. Plantation has been a much-focused trend for previous years, mainly because of the deforestation and global warming red alerts; however, indoor plants have gained hype on social media and Pinterest due to their chicness. Not only do they freshen up your atmosphere, but they're a great source of oxygen inside your homes. Plus, they look cool and compliment the green-hints interior design trend of 2022. You can put two to three plants in any corner of your living room or studio in ceramic standing pots or hang them. If you want to declutter your shower, try placing some hanging wines on top of your shower, and you'll enjoy a 'nature-studded' shower. While you're adapting this trend, make sure to look after the indoor plants as they require special attention and care as compared to outdoor plants.
3. Minimal Curtains:
Curtains or blinds? An endless debate, but this time curtains got the win. You can't deny that 2022 is all about sustainable decor with a major focus on a minimalistic approach. Although you have the option to go crazy with your curtain decor, the trend won't allow it. Remember the key to this year's curtain collection; "Simple is Sassy." While shopping for curtains, opt for pastel colors (or better, plain white/grey) with no intricate designs or lush borders. Either plain or minimal prints with high opacity will do the job. If you're still unsatisfied and your fancy soul is begging for something exciting, then you have the margin to play with the fabric. Choose the fabric wisely and make sure that the fabric doesn't disturb the minimal base of the curtains.
Tip: Net or polyester net would be great for the minimal aesthetic curtains.
4. Printed/Textured Cushions:
Throwing a bunch of cushions can transform your couch and can even add up to the beauty of the room. But for that, your cushion game has to be headstrong. Lucky for you, cushions contribute a lot to the latest home decor trends for 2022. This new trend brings stylish cushions as the cherry on top of a plain cake (couch) for which you don't need to spend much. Just make embroidered cushion covers with traditional eastern designs or the multicolored woven floras, and your fancy covers are ready to be paired up with a beige L-shaped couch. Another cushion trend includes the solid yet soft hues cushion, for example, the lightest peach shade that would perfectly complement a grey couch. You can also go for a much more sustainable option for fabric like jute in a warm earthy color.
5. Candles:
Candles are everyone's go-to relaxation therapists. They are soothing and anti-stress because they are a staple for home decor. The trend of candles as home decor began a few years back when the TikTok candle bending trend got hyped up. After that, lighting candles were considered a mandatory practice in homes and baths. But who would've guessed that carving candles in a female body shape would get them on the list for the 2022 home decor trends? Some people might consider this trend as controversial, but it is what it is, artistic and soothing!
6. Vases:
Showcasing freshly picked florals has always been an in-trend, but what about its canister? Back in the day, V-shaped vases were all you could find in the market, but now, there is a huge variety of vases, which is why this product is one of the home decor trends for this year. 2022 brings a wide and flexible variety of vases to the display with all materials including; ceramic, porcelain, stone, brass, gilding, and textured colored glass to the catalog. And there is no specification in shapes; you can go for any geometrical shapes you can find online.
7. Books:
Bibliophiles are a rare species in today's world, but if you wish to add a homey feel to your apartment, then get yourself some books, not for reading but for decorating. Books are a great way to create a cozy corner in a minimal environment. You must have noticed that libraries feel sleepy and calm; that's the magic of books. We're not suggesting that you create a high-profile bookshelf just for the sake of home decor, but adding a pile or a few books on a side table can be an affordable home decor product.
8. Mirrors:
The next exclusive home decor trend is hanging mirrors. Mirrors alone are a great home decor accessory even without a fancy frame. You can ace any plain old boring room decor with a stylish mirror. This year's mirror trends include abstract mirrors, 3D panel mirrors, round mirrors, hexagonal mirrors, and intricate collage mirrors. Apart from these shapes, you can find mirrors in geometric shapes, with floral motives and Greek meander. Lately, the mirror art deco has been a great way to show your creativity while applying the trend.
9. Dried Florals:
Adding flowers to make the space look and smell presentable is a basic thing, but there are certain types of flowers that you should focus on to stay in the trend circle. Officially Pantone 2022 announced tulips to be the flower of the year; however, sustainability is above all, for which we prefer you to go with dried flowers. Not only do they contribute towards sustainability, but they also look aesthetic. Please place them in either a chic or an antique vase. And there you have the soul to your dried and lifeless corners. Preserving flowers is pretty easy; once your tulips are dried, carefully tie them together and place them in a vase, then spray them with hairspray and any scent of your preference, and your flowers are preserved for up to days or even weeks.
10. Crystals:
Most people like keeping tons of crystals in their homes because of the positive, uplifting, and energizing vibrations they emit. If you're one of such people, great for you, but if you're not, it is time that you hop onto the bandwagon and buy one because it is trending. Placing a crystal on a side table or the kitchen counter can be a great decor that is not only affordable but also chic. Place a crystal on a resin coaster, and voila! The best decor combo ever to be created.
Hopefully, the above article will help you design your house into an elegant spot. Whether a double-story house or a bachelor apartment, trendy decorative articles and showpieces add to your plain and boring place. But you know the drill, get your hands only on products offering quality with affordability, just like those endlessbay linen throws that are the perfect match for your dull bed. With your artistic mind and our top research, you'll surely ace every room of your house; try it for yourself. Happy decorating!