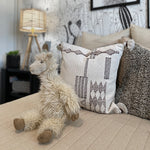 Linen is a fabric made from the fibers of the flax plant. It is often used to make clothing, napkins, tablecloths, and bedding such as sheets and pillowcases. Linen sheets are traditionally preferred by people with sensitive skin because it doesn't irritate the skin as some synthetic bedding materials can.
Just like any other type of clothing, you'll want to keep your linens in good condition over time to ensure they last as long as possible. Linen sheets are especially susceptible to damage when not stored properly.
However, linen has been associated with many health risks due to its stiff texture which can cause rashes and sores on the skin after prolonged use. It has also been shown to exacerbate eczema in some people.
Avoiding such health issues is possible by learning how to properly store linen sheets. Linen is susceptible to mold and mildew, so proper care can help keep the sheets in good condition for longer.
How to store linen bedding sheets correctly?
It's important to protect the longevity of your sheets by making sure you're storing them correctly. Here are some tips on how to properly store linen bedding:
Store your sheets folded in a drawer or hanging on a hanger much like you would with any clothing. This will help them maintain their shape and keep wrinkles from developing over time. You can even invest in a clothing steamer if you want to remove wrinkles from your sheets after washing them.
When storing your sheets, keep them in an area that is free of dust and mildew. Closets are often a good choice for this as they are typically well insulated against the elements. Make sure to keep the closet free of excess moisture as well if you want to prevent mold from growing.
You can also make your storage container for your linen bedding if you're short on space in your closet or linen closet. You can use a lingerie bag, or large pillowcase, to store sheets and pillowcases flat together, rather than folded up inside one another. This will help extend their lifespan by preventing wrinkles that may develop from repeated folding and unfolding over time.
Avoid storing dirty linen to prevent the growth of mold. To prevent mold from growing on your linen bedding, avoid storing them with dirt or other gross things.
As stated above, it's best to keep flax bedding sheets and pillowcases clean and dry so that they don't pick up bacteria and mildew while stored.
Keep the linens in a clean storage
When storing linen bedding, it's best to keep it in a hamper. This will help prevent bedding from getting wrinkled by nooks and crannies in your closet as well as keeping dust away from the linen.
Linen can also be stored in baskets or bins from Shopping Mall. Most linen closets have room for cabinets or shelves as well as additional storage space. You'll want to use this space to store items that are used frequently while other items, such as sheets, go into the closet itself. It's also a good idea to use shelves instead of drawers in your linen closet to prevent dust and moisture from getting on your linens.
If you're pressed for storage space, consider using a shoe rack or even multi-tiered racks to store linens.
If you're not storing your linens at home, you should make sure to avoid storing them in hot places like garages and basements. While there may be some benefits to other types of temperatures, these are the worst possible environments for keeping your sheets clean and dry.
Bedding made from flax can help you get a good night's sleep due to its warmth and coolness. It's an absorbent material that keeps your skin feeling dry throughout the night and even regulates body temperature by absorbing moisture.
Make sure to label your storage
After storing your linen bedding, it's important to label the boxes, baskets, or bins so that you know which set is inside.
It's important to keep your sheets free of germs and dust so they don't develop mold or mildew. Be sure to store them in a dark place that is free of moisture and humidity as well.
Make sure to wash and dry them
Be sure to wash your sheets before storing them to prevent any bugs or dirt from entering the fabric. While doing so doesn't completely prevent bugs, it can reduce the chances of something coming into contact with your sheets during storage.
It's best to wash your sheets at least once a month to keep them in good condition over time. A deep clean is also important if you have any allergens, such as pets or children, living in your home.
Learn good organization skills
The best way to store linen bedding is in a dark place that is free of dust and moisture. Bedsheets, pillowcases, and cases should be stored in a close space, such as under the bed or inside closet drawers.
Even when you've washed your bedding, it's still important to keep it organized for easy access. You can use a ribbon to tie the individual pieces of linen together so that they don't get lost throughout the process. This prevents having to rummage through all your linens for a certain piece of bedding.
When storing flax sheets, you have options for either hanging them up or putting them in boxes or baskets that are specially designed for linen storage.
Hanging your linen bedding is ideal for small spaces or for anyone who has a hard time finding the right place to store their sheets. You can hang your linen up using the hooks in your linen closet or under the bed.
You can also invest in a storage system specifically designed to organize linens, such as a storage case like this one from Target. This will minimize the amount of room that you need to put into organizing your linen and also keep it out of harm's way, especially if you live in a dry climate.
Take head to the smell of your closet
While it may not be practical to store all of your linen bedding in a linen closet, it can be a good idea to have one for special occasions or guests. If you're not comfortable with your linen closet smelling like linens, you can use a fabric softener on it. This will help reduce any smells that may be present.
It's also possible to line the inside of the closet with a fabric made from an odorless and breathable material so that it doesn't hold any smells from your linens. You can create a liner using a curtain rod and elastic.
Keeping flax sheets away from dust and debris is essential because they are commonly exposed to dirt in most homes and clothes closets where they are often stored. If you want to keep your linen closet fresh and clean, consider using a natural fragrance. You can also try keeping a small container of mildew spray on your linen closet shelf as well so that the smell will last longer.
Refrain from using plastic
If you're having trouble finding a place to store your linen bedding, your sheets may be touching plastic in your linen closet. It's important to avoid using plastic on the shelf of your linen closet so that moisture doesn't get underneath the sheets.  
If you don't have a natural fabric storage shelf, try putting down some cardboard or paper to prevent moisture from getting beneath your linens. A dryer sheet helps keep moisture away from the bedding as well.
It's important to avoid plastic if storing your linen bedding. Plastics should not be used in areas where moisture is introduced because it can cause bacteria and mildew growth.
Other Linen Closet Organization Tips
While it's possible to store all of your linen bedding in a linen closet, there are some ways that you can organize your linens even if you don't have the space.
If you're not able to keep all of your bedding in a linen closet, consider reorganizing your linens so that they are stored by type. For example, pillowcases and sheets may be placed in one area while pillow shams and cases go in another. Be sure to label this area as well to avoid confusion.
It's also a good idea to separate your sets for cold and warm weather if you live in an area where temperatures may vary throughout the year.
If you follow these tips for storing your linen bedding correctly, your sheets will last longer and keep you cozy through the night.
Storing linens is easy but it must be done in a way that protects them from dirt, damage of dirt, and dust by mites or other insects.