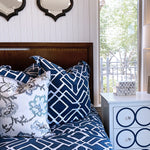 Summer is a season characterized by long summer days. This could be a blessing or a curse depending on how you'd like to spend your time. Sometimes it seems like the days never end, either because you have nothing to do, or because the only things that get completed are chores and errands.
Among the necessary products you should have in your summer inventory during this endless-seeming season, linens should be included. Linen sheets have many benefits that make them a very useful addition to your summer kit.
Linen is the perfect fabric for summertime as it is a highly breathable material made from the flax plant. It has long fibers that are naturally woven into textiles and therefore feel silky soft and supple, unlike cotton. Linen air conditioning sheets are cool to touch but provide greater heat insulation than cotton or other types of sheets.
Although linen is known for its breathability, it is also a natural fabric that naturally repels bacteria and germs. It prevents skin problems, keeps you cool and warm, and gives your body the right amount of moisture.
Moreover, linen sheets are hypoallergenic and it has antimicrobial properties. Also, they last longer than cotton sheets which are more prone to mildew issues.
It's no wonder why linen sheets are so popular with people across the world. Among these worldwide known sheets, we handpicked for you the best ones that are perfect for the season.
Best Linen Sheets to Keep You Cool This Summer
Bedsure 100-Percent Viscose From Bamboo Sheet Set
Bedsure 100% Viscose From Bamboo Sheet Set is made of the finest viscose from bamboo material to let you have a wonderful summer sleep and relaxation. The sheets are designed to create a soft, inviting, and relaxing atmosphere with their silky smoothness and their extreme durability.
They are very easy to wash, thanks to their wrinkle-free feature, and thanks to the hypoallergenic property of the material, they won't trigger allergic reactions. They are breathable, ensuring that you can keep your body's temperature regulated and prevent overheating.
The Citizenry Stonewashed Linen Sheet Set
If you're looking for a simple and elegant set of linen sheets that will provide you with great support and comfort all summer long, the Stonewashed Linen Sheet Set is a great choice. It provides all the necessary qualities that are essential to having healthy and refreshing sleep.
These breathable sheets provide you with additional comfort. They will eliminate excess heat that is built up during the day, keeping your body regular and your mind peaceful and relaxed. The beauty of linen material is that it gives a very fresh outlook, which is why it's perfect for summertime. It doesn't hold any unpleasant odor or moisture, which makes it hypoallergenic and resistant to bacteria or mold.
endlessbay Essential Linen Sheet Set
This is an attractive and stylish linen sheet set in a color combination of blue and purple. These sheets are made of the softest 100% pure Belgian flax, giving you the perfect breathability and elasticity. They have double-stitched edges to ensure that they won't tear or fray.
They are very smooth, which makes them comfortable to sleep with and at the same time very nice to the touch. They are fitted with a zipper closure which will prevent any unwanted leaks from occurring in your room.
The color combination of each sheet is very chic, as well as stylish, offering a great visual appeal for your room decor. The fabric is very durable, so you can use your sheets for many years to come. They come in 8 different colors, which will suit your bedroom decor. With the help of endlessbay cool linen sheet set cooling fabric and unique design, these sheets will surely make you feel relaxed and comfortable.
Quince Belgian Linen Sheet Set
The simplicity of cotton is the main reason why it's considered to be one of the favorite fabrics among people across the world. It's very comfortable, breathable, and easy to wash, thus making it a perfect alternative in the summertime.
The Quince Belgian Linen Sheet Set is made of 100% long staple combed linen that you can machine wash. They provide a cool and relaxing sleep, as well as a feeling of comfort and peace to your body. They are wrinkle-free, which is quite convenient when trying to make your bed in the morning without much hassle.
These sheets are great to use even on the hottest days since they provide a cooling effect to your body. They are highly durable sheets that won't feel stiff or scratchy against the skin.
Brooklinen Linen Core Sheet Set
The Brooklinen Linen Sheets are made of very durable and breathable material, ideal for this summer season. They have a nice combination of gray, white, and linen that provides a unique look and feel. The combination gives the sheets a stylish yet simple look that will suit your bedroom decor.
The fabric used in these sheets is combed cotton and high-quality long-staple European flax fibers, which keep you cool during the summer months. They allow airflow to your body on hot days to make you feel fresher and more comfortable.
These sheets are also wrinkle-free, making it incredibly easy to make your bed in the morning with their softness and elasticity.
West Elm European Flax Linen Sheet Set
The West Elm Linen Sheets are made of extra-long staple flax linen fabric that is durable and breathable. They have a simple look and feel, great for any season, which makes them a stylish option for your room decor.
They have all the necessary qualities that allow you to relax and enjoy your summer nights. These sheets are easy to keep clean since they can be machine washed in cold water and dried in low heat. The color will stay consistent over the years by following these instructions for washing. They are very lightweight and smooth, giving you a very pleasant sleeping experience with the comfort of elasticity.
What makes the best cooling sheets?
The most important thing to remember when choosing bed linens is that you should use the appropriate one for your condition and comfort. These are also very useful in summer when sleeping at night might be problematic due to hot temperatures or excessive sweating caused by heat.
Cooling sheets are produced with a wide variety of different materials. However, to determine the best ones among them, you should know the unique features that can help you decide on the cooling sheets that will be most suitable for your summer. They are:
Type of fabric:

The type of fabric the sheets are made of is one of the most important features when choosing cooling bed linen since it contributes a lot to your comfort while sleeping since it prevents overheating and sweating.

The best choices are cotton, flannel, and microfiber. These materials have great air permeability and moisture-wicking properties which keep you dry and relaxed during summer nights.
Softness and elasticity:

The sheets should be very soft and comfortable to sleep with, as well as to hug. The sheets will provide you with added aesthetic appeal, which will be very well received by anyone who sees them in your bedroom decor.
Breathability:

One of the most important features of the linen sheets is their breathability, which enables them to stay dry during summer nights and makes it possible for them to absorb moisture from your body.
Drying time:

The drying time it takes for the sheets to start sticking together after washing is one factor that allows you to identify the best cooling sheets available in stores. It should be as short as possible to eliminate the possibility of mold and bacteria build-up.
Wrinkle-free:

Most convenient is when you can wash your linen sheets and they come out of the drier wrinkle-free, so you don't have to spend too much time ironing them before using them.
Zipper closure:

Zipper closures enable you to keep your sheets in place without worrying that they will get wrinkled or lose their solidity during use.
Size:

The most common mistake when picking cooling sheets is the size. You should always check the dimensions of each sheet since a small size sheet might be uncomfortable and itchy to lie on.
If you want the best of the best from the above-listed product, we would recommend endlessbay cool linen sheet set. They are so good that they are considered to be the best cooling sheets on the market right now.
endlessbay cool linen sheet set is made of high-quality materials, which are suitable for summer and winter. It's suitable for almost every season as it will serve you well if you're looking for a very stylish cooling set of sheets with a great capacity to keep your body cool at night.
Buying from endlessbay is one of the best ways to save money while being able to choose from all the different types of linen sets they offer. All in all, if you're looking for the best cooling sheets, go with endlessbay cool linen sheet set, you won't be disappointed.