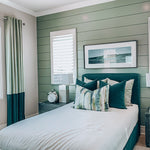 How to choose the best flat sheets for your home. We have compiled a list of what we consider to be some of the most important factors for you to keep in mind when comparing different options:
Softness. The first thing that you should think about is how soft and comfortable sheets feel against your skin. If they do not feel good, you will never want to use them, so it's important that they are comfortable. The best sheets are soft.
Durability. Some people are worried about how long their sheets will last, so it's important that you think about the durability of what you want to purchase. The best sheets will last a long time and not need constant replacement, making them a great value for the money.
Style and Comfort. The look of your sheets is important, but you also want comfort. If the sheets are not comfortable, you will not want to use them, so it's important that you think about the style and comfort level when choosing the best bed sheets for your home. The most comfortable sheets are usually the ones that look good as well.
Price. Like with anything else, price is always a factor when choosing what to purchase. The best sheets will be the most comfortable and durable, but they will also be the more expensive. This makes sense, though, because there is a lot of expense and difficulty in finding organic sheets that are good quality
Design and Appearance. The design of your sheets makes a difference in how they look. It's important that all bedding matches in style and color, so you want to make sure that you find what you like when purchasing sheets. There are many different design options when it comes to sheet sets, so make sure to find what you like.
Organic or Not. It's important that you purchase organic bed sheets because they are much healthier for the environment and your body. They are softer and more durable and do not contain harmful chemicals that can be absorbed into your skin while sleeping.
Materials Used in Production. The best sheets are usually made from high-quality materials, because these materials will make the sheets last longer and be more durable. Cotton and linen are the best materials for these types of products, but cotton is typically less expensive than linen.
Easy Maintenance. The most important thing to remember when purchasing sheets is that you must purchase what your comfort level is. If you need to wash your bedding more often than they recommend, try finding sheets that can be washed in a machine at home. If you want to wash your sheets in the machine and skip the dryer, try finding sheets that can be washed in the washer, but then dried with low heat. By using these two methods, you will never have to iron your bedding and can easily maintain your linens.
Price Value. The price of a sheet set is important because it determines how much the sheets will last and how much damage they will cause when used regularly over time. The best sheets are usually more expensive, but they will be durable and last longer. It's important that you make sure you get the most value for your money when purchasing sheets because chemicals are not as high quality as other types of materials.
Additional Features. Some people like sheets that have additional features, such as waterproofing or tabs to help you keep the sheets in place while you sleep.
How to Pick the Right Linen Flat Sheet Size
When you are buying sheets, the size of your bed is one of the most important factors. The right side of the mattress and pillows will determine how many sheets you need. In some cases, you may end up replacing your sheets within one year. If this happens, it is important that you go with a set that's big enough to accommodate your needs. This way, you won't have to buy new ones as often as what happens if you choose a smaller set.
A good rule of thumb is to measure your mattress and pillows to find out the correct sheet size. You can do this by using a piece of paper. Make sure that you don't measure the mattress too tightly even if you are short on sheets. This will cause them to be too small for your needs. Also, if you have four pillows on your bed, make sure the sheets are a bit bigger than what they are supposed to be.