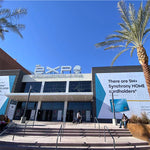 LAS VEGAS, July 24-28, 2022 - endlessbay joined the Las Vegas Market for the first time on July 24-28, 2022. The Las Vegas Market is a trade show which showcases retail companies that have expertise in furniture, gifts, design, and the home decorations industry. It is open to retailers, consumers, designers, and purchasing companies. This is the west coast's captivating destination for product sourcing as it features top exhibitors in the area.
As first-time attendees, the online store endlessbay showcased the best linen sheets sets, quilts and throws, cotton duvet covers, and cotton sheets sets. endlessbay attracted the attention of consumers and visitors through their first-class products by bringing the luxury of world-renowned five-star hotel comforts to your homes. For customers, these linen sheets sets provide comfort and aesthetics. The products have been offering customers the best home experience.
Linen Sheet Sets
The luxurious linen sheet sets are featured on the exhibit. With the eco-friendly materials handpicked from Belgium and France, a world-class linen sheet set brings comfort and richness to your beds. Linen is uniquely hand-cut from the linen gold belt spanning. The relaxing colors of the linen sheet set are done with yarn-dye to guarantee the non-fading of colors due to washing. The products are safe without bleach, softeners, and other chemical additives. Changing to a linen sheet set on your beddings will give you the ultimate comfort and rich experience.
Linen Throws
Aside from the linen sheet sets, linen throws were also available on the Las Vegas Market. These linen throws are made by artisans using unique and classy weaving techniques and give superb durability. Made from Belgium, the linen throw is 100% natural linen, eco-friendly, free from toxic chemicals. Even after multiple laundries, the linen throw shows its natural sheen and softness. This can be a good and luxurious addition to your bedding accessories.
Cotton and Linen Quilts
Since the Las Vegas Market is also famous for gifts and design, the cotton quilts have been one of the most bought gift products available in the exhibit. Being the newest addition to the bedroom line, the cotton quilts give you a luxurious and therapeutic feeling while sleeping. These quilts feel lighter than before. A wide variety of collections is available to warm your good night's sleep. With 100% cotton, this quilt is warm and cozy to use all season.
Aside from the cotton quilt, the linen knitted quilt was also a star during the exhibit. This is a new collection that has 100% linen from premium flax in Belgium - linen on the outside, and cotton on the other. This product is safe to use after unpacking since it is washed and sterilized at a high temperature before packaging.
2022 Bedding Trends

A bedroom is always the place we needed the most after a long tiring day. This is the best place to rest and like what most people wanted, bedroom finishes should match the personality and style of a person. With the perfect material used on your beddings, your sleep will be as comfortable as ever.
This year, linen is one of the most luxurious and stylish fabrics, and it is also eco-friendly. Due to the increased environmental protection awareness, most consumers are buying sustainable and environmentally friendly products. With this, linen is the best option. This strong material is made from the flax plant. This textile is known for regulating body temperatures so this could be used on cold and warm temperatures.
Also, combining different textiles such as linen and cotton has now become a trend for a cozy and inviting bedroom.
For the colors of beddings, warm earth-color tones are now in trend. It creates a calm atmosphere in the bedroom - where people most want to relax and experience comfort. At the same time, neutral shades are also in trend.
Since 2016, endlessbay has been providing bedrooms luxurious beddings for the most comfortable periods of sleep. Their products are designed with high-quality and premium textiles for thousands of customers in the airlines, hotels, and accommodation industries. All products are crafted with high-quality materials to provide hypoallergenic and comfortable linens for beddings, seat covers, pillowcases, and table cloths. 

endlessbay brings a luxurious five-star hotel experience at the comfort of your home. They provide affordable and premium beddings that balance style and comfort.