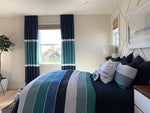 Bed sheets are an essential part of any bed, providing comfort and warmth to the sleeper. But there is more to them than just a comfortable place to lay your head at night. In fact, the right sheets can actually have a number of important benefits for your health and well-being.   
Here's a look at some of the most important benefits that bed sheets provide.
Benefits of Bedsheets
1. Bed sheets can help improve your sleep quality.
If you're struggling to get a good night's sleep, it might be time to invest in some new bed sheets. Studies have shown that the right bedding can actually help improve sleep quality, thanks to its ability to regulate body temperature and provide comfort. So if you're looking for ways to improve your sleep, start by choosing the right sheets.
2. Bed sheets can help reduce stress and anxiety.
Another important benefit of bed sheets is their ability to help reduce stress and anxiety. Many people find that simply being in a comfy bed helps them feel more relaxed, which can help lower stress levels overall. And when you're less stressed, you're also more likely to sleep better. So if you're looking for ways to reduce stress and anxiety, make sure your bedding is up to the task.
3. Bed sheets can keep you cool in summer and warm in winter.
One of the most important functions of bed sheets is their ability to regulate body temperature. In summer, sheets made from natural materials like linen can help keep you cool by wicking away sweat and allowing air to circulate. In winter, flannel or wool sheets can do the same thing by trapping heat and keeping you warm. So no matter what time of year it is, your bedding can help you stay comfortable.
4. Bed sheets can improve your overall health.
A good set of bed sheets can help improve your overall health in many different ways. Whether it's improving your sleep quality or reducing stress and anxiety, there are many positive effects that having the right bedding can have on your well-being. So if you want to improve your health, make sure you choose bedding that will support your needs. And with so many options available today, it's easier than ever to find the perfect sheets for you.
5. Bed sheets can add style to your bedroom.
In addition to all of the practical benefits they offer, bed sheets can also be a great way to add style to your bedroom. With so many different colors, patterns, and materials available, you can easily find sheets that match your personal style. And when your sheets look good, it'll be easier to enjoy spending time in your bedroom and get a good night's sleep.
6. Bedsheets can help keep your bed clean and free of dirt and dust:
We may not realize it, but every morning when we jump out of bed to go about our day, we leave behind a trail of dirt. Bedsheets help trap this dirty debris and keep your sheets in tiptop shape all day.
7. Bedsheets can protect your mattress from wear and tear:
As you sleep, you and your sheets rub against each other in a very gentle manner. Over time, this rubbing wears down the fibers of your mattress. Bedsheets are made from materials that soak up any dust or dirt particles that rub off the top of your mattress and keep it looking brand new.
8. Bedsheets can make it easy to change the look of your bedroom
When you want to change the look of your bedroom, simply switch out your old bedsheets and bring a fresh new style into your home. A change in bed sheets can give your bedroom a new life, and help you feel refreshed at the end of a long day.
6. Bedsheets can be used to create a variety of different looks for your bedroom:
 If you are tired of the same old bed sheets in your bedroom, consider using different patterns or designs to give your room a fresh new look. Change the way you decorate your bedroom by switching out your bed sheets often.
7. Bedsheets can be a great way to save money on your bedroom décor
 If you love to change your bedroom layout, but can't afford to replace all of your existing bedding, choosing new sheets can be a great way to update the look of your bedroom without spending a lot of money.
Types of Bedsheets
There are many different types of bed sheets available, including natural linen fitted sheet and linen flat sheet options. Each type of sheet has its own set of benefits, which can make your sleep experience more enjoyable.
1.Natural linen fitted sheet
Natural linen fitted sheet is a great addition to your bedroom. It is made using natural raw material that ensures you an organic and better Sleep. One of the biggest benefits of natural linen sheets is that they are made from a highly durable and sturdy fabric. Linen is known for its strength and resilience, making it perfect for use in bedding. This is especially true for fitted sheets, which have to withstand constant pressure from your mattress and body without tearing or breaking.
2.Linen flat sheet
Linen flat sheet is another option that you can use. It offers the same quality as fitted sheets and is also very light in weight. You can have it in different design patterns, sizes, and colors to meet your needs perfectly.
3.Microfiber bed sheets
Microfiber bed sheets are another option that you can go for. They come in various sizes and colors. They are soft and smooth in texture, and are quite comfortable to sleep on. They also offer a good value for your money. In addition to this, they do not fade and shrink with time, so can be used for years together without any issues.
4.Cotton fitted sheet
Cotton fitted sheet is the most popular option people choose when buying bed sheets. Iit is made out of cotton. It provides a comfortable sleeping experience and is breathable as well. It doesn't absorb moisture, so you are free to toss and turn all night with ease as it stays cool even in summer months.
5.Microfiber flat sheet
Microfiber flat sheet typically features waffle-texture design that offers good airflow. In addition to this, the fabric is also breathable and does not leave the sheets hot or sweaty in bed at night. It is washable and wrinkle-resistance, so it can be used for years to come.
6.Cotton flat sheet
Cotton flat sheet features high thread count in the fabric, which offers a very soft and comfortable feeling against your skin. It is lightweight and breathable, so you don't have to worry about getting hot while sleeping under them. It also has excellent stitching that doesn't break apart easily even after washing them. This means you can use them for years to come without any problems.
7.Silk sheets
Silk sheets come in many different colors and designs. They are incredibly soft and comfortable to sleep on because of their smooth texture. This type of sheet does not fade or wrinkle with time, so it can be used for years to come without having to buy new ones all the time. They also have great moisture absorption, so you won't have to worry about sweat marks at night as well.
Why Linen is a Good Choice for Bedding
Linen bedding is a very good choice for bedding for many reasons. Over the years , many people have noticed that linen is a great choice and most don't regret their decision of linen bedding. Here are some of the benefits of linen bedding:
Linen is made more durable, than cotton. It doesn't get wrinkled as much as cotton.
Linen absorbs moisture without feeling damp, so it's perfect in the hot seasons, and it can be used in areas with high humidity level. Linen also dries quickly . In hot weather you will sleep better, if you choose linen bedding.
Linen doesn't fade as much as cotton does and it holds its color for a long time. Its color looks attractive and nice, as linen threads are quite thin, so it will create a lighter texture of the fabric.
Linen flat sheet naturally resistant to moths and other insects. If you live in area with high insect population, you should consider linen bedding.
Linen is easier to clean than cotton because it doesn't absorb as much water as cotton does
Natural linen fitted sheet doesn't wrinkle much as cotton does . This is why linen bedding looks fresh after washing it.
Linen is machine washable, so you don't need to worry about ironing it and you can wash linen bedding in a washing machine.
Your linen bedding will keep its shape better than cotton does . This is why linen bedding looks fresh even after years of use . You can make a cushion or a cloth from old pieces of linens - it will look like new!
Linen is a great material to use if you want to make a duvet cover or any other linen home accessory. If you decide to make bedding on your own, we recommend using linen or other natural materials, not polyester or other synthetic materials.
Linen sheets are also easy to care for and maintain. They can be machine-washed on a regular basis without requiring special cleaning measures or products. This makes them a great choice for busy people who don't have time to spend hours caring for their bedding.
If you're looking for a bed sheet that offers all of these benefits and more, natural linen sheets are a great option to consider. With their durability, comfort, and easy care instructions, they are an ideal choice for anyone who wants to enjoy a good night's sleep.