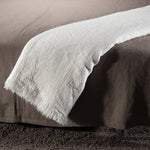 Renovations of different rooms became pretty popular since people tend to find activities that will kill their boredom during quarantine. People try to become interior designers and renovate their bedroom, kitchen, dining room, living area, and toilet and bath. Google, YouTube, and Pinterest have become people's partners in their designing journey learning to do cool DIYs and noting design ideas to apply.
Different design styles have become more prominent and visible on different websites thus there's no way that someone cannot renovate their own spaces. This guides aspiring renovators to achieve their desired results. Scandinavian and minimalist designs were today's famous design styles.
Some of the popular designs in home bedding
Scandinavian Style
Scandinavian style in the bedroom comes with dark tones in walls and floors and compliment it with soft and light-toned bed sheets, linen duvet covers and other beddings. This style plays between neutral colors and different textures. This also uses plants as it lightens the grayscale scheme of the style. It is the most used style as it promotes a cozy look and warm feeling and it is the most suited look in bedrooms.
Beddings play a big role in the style as the bed is the main furniture of the room. Pillows, bed sheets, linen duvet covers, and throws should also vibe the style of the desired look. Choices of fabrics were crucial as they are in the biggest furniture in the bedroom thus they are the first to be seen as the user opens the door. Linen fabrics were one of the most used for this has a nice texture that gives a warm and comfortable feeling. Cotton fabric was also used as a bedding- pillowcase, bedsheet, and bed cover- because it provides a soft feeling that makes the user enjoy the experience.
Minimalist Design
MInimalist designs were one of the favorite designs of designers because of their neat and tidy look. This also uses monochromatic colors such as black, white, and brown. So in order to make a minimalist bedroom, you need to balance the color scheme. If you have white walls, dark flooring then you can put on gray beddings. Just try to mix and match the colors just not try to overuse the black elements. It is better to have more white tones and gray colors and have merely little black colors just so the bedroom does not make a heavy or dark mood.
Both design styles have one in common, they use neutral colors. Choosing the right colors and balancing them is one of the struggles of designers but it can be easy by having photos with the desired color. Endlessbay has pictures of their beddings in every color. With this, moms can visualize and can immediately choose the right color they want.
Why are Linen sheets so expensive?
Comfort
Beddings should be as comfortable as possible. Because they are the ones where we lie on when we sleep after a very hard and tiring day. So our pillows, bedsheets, and linen duvet covers should be comfy and soft to have a good sleep so after a hard day there's a little thing to celebrate on. And it is a little reward for ourselves to have a good sleep after we exhaust ourselves to love others. So having comfortable sheets is a good investment. Linen sheets are known as soft, dry faster, and absorbent. With this, it is a good bedding fabric even during hot days. It makes the users feel cool during hot weather.
Linen duvet covers are known to be comfortable because of its thick and soft sheets. Because of this, it is never been expensive as it gives the comfort that should be felt by customers.
Materials
Linen sheets are reasonably expensive because it is difficult now to produce linen. The material itself is pretty durable so you can use it longer. Linen is also a moisture-wicking fabric that prevents sweat from sitting on the fabric thus it does not emit odor.
Home decor
Linen textiles are used in bedrooms, living areas, and even in dining. We use it as home decor which means it plays a part in the design of our spaces. With the lots of usage of the cloth which is inversely proportional to the number of available linen products that the producers can give which demands a higher price to sustain the production of it.
Linens are used in not typically designed spaces. It is used to design classy-looking spaces and transform ordinary spaces into classy-looking ones. Airports and hotels are examples of spaces that use quality products to uplift the design and to meet the look they want to have for the customers to experience.
Good sleep is a priceless reward for ourselves and most especially for our elders. Linen has never been that pricey as it provides the comfort that we need for beddings to have a nice sleep so it already pays back from the first time you use it. Quality linen is preferable that enhance the quality of linen to provide more enjoyable features for a good experience.
endlessbay
Luxury Design
Endlessbay has been slaying the making of quality and luxury textiles. It is popular and known as a luxury provider on airlines, 5-star hotels, and other industries which you can really tell that it holds a trusted brand that gives undeniable comfort to its users. So designers often orders Endlessbay bedding set for uniform design.
Long-lasting color
Endlessbay is one of the top linen manufacturers that enhances linen fabrics' properties. It is designed to be long-lasting. Products undergo a yarn-dyeing process to maintain the color of the linens. Through this, users can use their linen beddings as much as they want. Linen products are designed for regular use and laundering which helps to make the fabric get softer as much as you wash it. Hopefully, its beddings' colors do not fade easily.
Quality Design
Linen products are made to be of high quality. It comes from the lands of France and Belgium and is crafted of high-quality and ecologically friendly textiles. Products were designed to be hypoallergenic which makes the products really provide the users' needs. Luckily endlessbay can provide almost all the beddings we need. It has bed sheets, linen duvet covers, throws, pillows, decorative pillows, and pillowcases. endlessbay helps us to get a 5-star experience of luxury and comfort in our own homes.
Wide range of color
Linen products are available in various colors which helps you to love them, even more, their products and helps you to find the perfect color to match it with your desired color scheme. Different colors aside from the neutrals allow you to try other colors which makes your design more personalized. With the trend design, designers can find their chosen colors without hassle because you can order this online.
100 percent guarantee money back
Products are given a 60-night trial to ensure all the customers will really enjoy what they pay. endlessbay strives to give each customer the comfort they need. In addition, endlessbay also offers free shipping so you will pay only for the products.
Essential Linen Sheet Set
Essential Linen Sheet Set is the ultimate gift you can give to yourself and your family. The comfort should be set to truly experience the hotel vibe and give you the luxury experience and vibe also to your minimalist room. This set comes with a fitted sheet and two pillowcases. With this endlessbay bedding set, you will feel the comfort of your sheets and pillows. This is available on twin-size beds, queen-size linen sheets, and king-size linen sheets. This is available in 8 colors- Bermuda pink, deep blue, dusk gray, shell ivory, Aruba blue, dawn gray, blush, and sangria. This bedding set is perfect if you have a soft linen duvet cover. It makes the sleeping experience more relaxing.
Linen Duvet cover
endlessbay has an eco-friendly linen duvet cover that is made of 100 percent of linen which makes it breathable and soft. It is available on both queen and king-size beds and even in twin-size. It is totally safe and free from harmful chemicals. Linen duvet cover preserves the natural beauty and texture of a linen textile which makes it classy and luxurious looking.
Linen Flat Sheet
This linen flat sheet gives you the minimalist effect on your bedroom so this is a perfect linen textile to compliment your masterpiece. If you want a masculine type of bedroom, go for the Dawn gray or toasted coconut or you might want the deep blue color. But if you want a light color you may try the Bermuda pink color. It is a perfect color if you like pink or add a soft touch to your Scandinavian design. This is available in eight colors- Deep blue, Shell ivory, Dawn gray/ Toasted coconut, Bermuda pink, Aruba blue, Dusk gray, Blush, and Sangria.
Natural Linen Throw
endlessbay has natural linen throw that has the same comfort and luxury as the beddings have. This allows the users to have the luxury of comfort both indoors and outdoors. This is available in three colors-Dawn gray, Shell ivory, and Coastal cream.
Pure Linen Throw
Pure linen throw is the best decor for your Scandinavian or minimalist peg. This has a good texture that gives a cozy feels in your bedroom or in your living area. This is available in four colors namely sky blue, blush, olive green, and charcoal gray.